2 O'Clock Tasting

:


Founder's Brewing Co.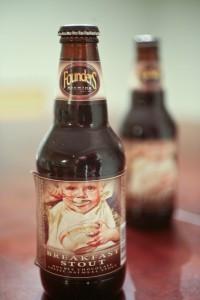 In 1997 two steadily employed men from Michigan decided to quit their day jobs and chase their dreams, and through this massive leap of faith Founder's was born. Back in the 90's Mike Stevens and Dave Engbers did something that most of us are far too scared to do. They took a chance. A chance that has, now, paid off handsomely for one of the most recognized breweries in the country.
However, their journey was not without struggle. After almost going bankrupt the pair decided to up the ante on their chance taking and began brewing beer that they wanted to brew. They started crafting complex, in-your-face ales with huge body and crazy flavor. All these chances have paid off in the form of recognition, beer honors from around the world, and, of course, amazing beer that we can't get enough of. We were lucky enough to get our hands on some of the most innovative beers that the trailblazing brewery has to offer.
Big Lushious

7.8% ABV

This deep, rich stout is part of Founder's Backstage Series which seeks to bring some of their most popular and experimental brews from the taproom to the rest of the non-Grand Rapids dwelling public. The Backstage beers have no timeline as they are brewed sporadically and may not ever be brewed again. So, we consider ourselves lucky to be able to try a bit of the chocolatey goodness that is Big Lushious.

The coffee colored almost black body of Big Lushious is just the first of a number of enticing facts about this limited edition beer that will have you craving far more than there is. Its tan, dark kaki head leads you into a world of sweet smelling aromas. Wafts of dark chocolate hit you initially as hints of raspberry follow. This isn't surprising as the beer is brewed with these two ingredients. The aromas perfectly match the taste as you'll encounter a full bodied chocolate infused stout with swirls of raspberry and the perfect touch of syrup. This delicious beer will brighten your day and have you looking for as many bottles as you can get your hands on.

Harvest Ale

70 IBU | 7.6% ABV

The Harvest Ale from Founder's is a Limited Edition beer. So, add it to the list of great beers we want more of, but Founder's doesn't have a lot of. The Harvest Ale is a wet hopped ale which means that the hops are added to beer within hours of harvesting while still wet.  Wet-hopped beers have started popping up in tap rooms across the country and have even replaced some of the classic pumpkin beers as a worthy seasonal rival. With this beer, Founder's once again breaks the rules and delivers a fantastic beer.

This wet-hopped wish of our wildest dreams pours a beautiful golden, straw color with hints of orange and a light, white head. Initially all you get are citrus and hoppy aromas, but as you allow you sense of smell to explore the beer further you pick up delicious scents of pine giving the beer a full, earthy aroma. The taste is clean and crisp. It is definitely wet, but that is to be expected considering the brewing process. Notes of fresh pine and an exemplary hoppy finish are the perfect ending to a beer that you never want to stop pouring.

Devil Dancer

112 IBU | 12% ABV

Although this hoptastic, hugely complex beer isn't Founder's flagship beer it definitely could be. Representing all of the attributes that Founder's, well, founded themselves on. This in-your-face triple IPA is worthy of its name as taking on the huge malt character of the twelve percenter is akin to a meeting with Lucifer himself. Although, it is a tasty meeting it could be a dangerous one if you don't choose your moves wisely.

Not only is this beer every kind of complex you can think of, but it's also dry-hopped with ten hop varieties. Which is just another testament to Founder's non-stop style. When they do it, they do it big, and 112 IBUs is big. The Devil Dancer is a hazy, amber colored beer with fleeting hints of red and orange. It's brown butter head affirms the fact that this beer isn't just crazy innovative, but it's also lovely to look at. Aromas of Carmel hit you initially with the slightest hay smell that transports you to cold, late nights being warmed by a camp fire. The taste isn't as intense as you would think when you think 12% ABV and 112 IBUs. It has a clean, hoppy bitterness to it that gives you that warm feeling inside. It's not only the perfect beer to warm you up on a cold winter night, but also one of the most complex and innovative beers on the market.
---
We make all-grain beer brewing kits that make it easy to make beer at home. Whether it's your first batch or your hundredth.
---