Bar Profile

:


The Blind Tiger, Manhattan, NY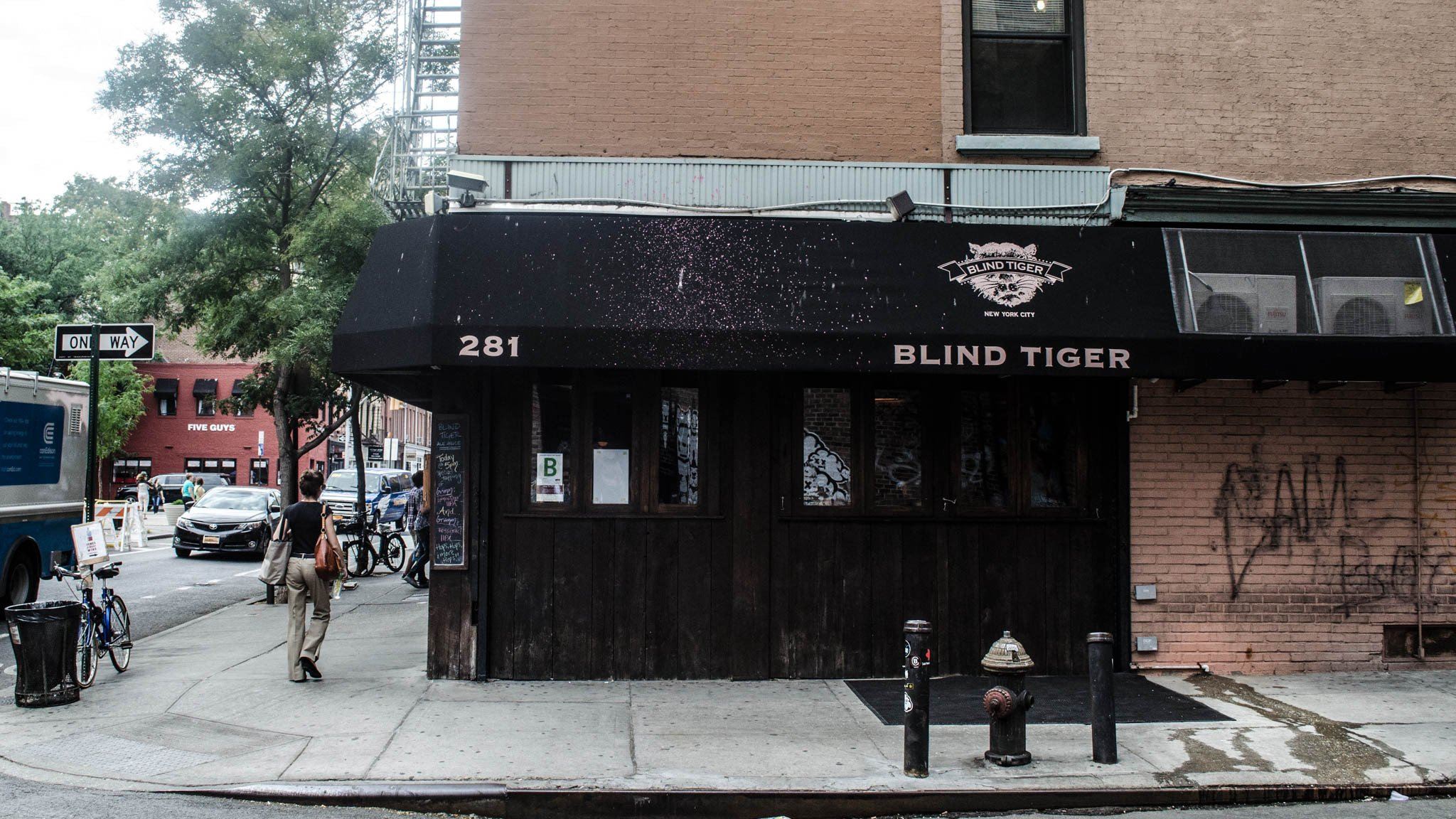 While brewing at home is great fun, the Brooklyn Brew Shop team likes to get out and grab a beer every once in a while. Who doesn't? With that in mind, we would like to give our fellow beer drinkers the scoop on some of the best beer bars in our area. From Brooklyn to Manhattan to the occasional stop out of town, here's where you might find us drinking tonight.
Before craft beer blasted onto the scene — before the U.S. was flecked with microbreweries, before lambics and strong ales were in the common bar vernacular, before drinkers were talking about Brettanomyces — the Blind Tiger Ale House was alive and well, serving up craft brews on the corner of Hudson and West 10th St. in Manhattan's West Village. Opened in 1995, the revered bar has been dubbed by Time Out New York as one of the "OGs" of New York's craft beer scene, with its 28 taps pouring some of the best craft brew available for the last two decades
But success didn't come instantly. Katherine Kyle, general manager, recalls a time before craft beer was a bar-side standard.
"[When the Blind Tiger opened], no one knew what craft beer was. There'd be a chalkboard outside that said 'craft beer,' and people would come inside and literally say, 'Oh, you have a typo on your board out there, it's supposed to be draft beer, not craft beer."
Many years later, Kyle admits there has been a massive change in the beer scene; what was once unknown is now thriving. Despite the many years and many new bars, the Blind Tiger, now located on on the corner of Bleeker and Jones Streets, is still a craft beer authority in the city, with veteran status to back it up.
A bar is nothing without its beer, though, and in this realm, the Blind Tiger is meticulous. With all the minds behind the bar, Kyle included, constantly thinking of and curating new beers, it's fitting that the bar describes itself in its mission statement as an artists' gallery for brewers.
"One thing I am very committed to ... is making sure I have a broad spectrum of styles and flavors," Kyle said. "I'll always have something malty. I'll often have quite roasty things, even [in] summer, and I'll have a barley wine. That's all part of just trying to have a really diverse selection."
Pair this with a surprisingly explorative food menu, featuring chorizo tacos, bahn mi and seared tuna, to name a few, and the Blind Tiger seems to have all the ingredients for a beer-filled, belly-filling good time. The last piece of the equation, Kyle said, is creating a healthy dialogue between the bar and its patrons..
"We're really big on relationships," she said. "And that includes relationships with breweries, with brewers ... and also with our regulars. You want to have great people behind the bar, and that really fosters that relationship with good people on the other side. Above and beyond everything, it becomes a beer community."
This beer community is what keeps craft beer thriving, and the Blind Tiger is a great place to join it. Next time you're in the area, look for this beloved watering hole and try a few of the 28 taps.
Visit: Blind Tiger Ale House // 281 Bleeker St. New York, NY 10014 // 212.462.4682
---
We make all-grain beer brewing kits that make it easy to make beer at home. Whether it's your first batch or your hundredth.
---