Bar Profile

:


The Diamond, Brooklyn, NY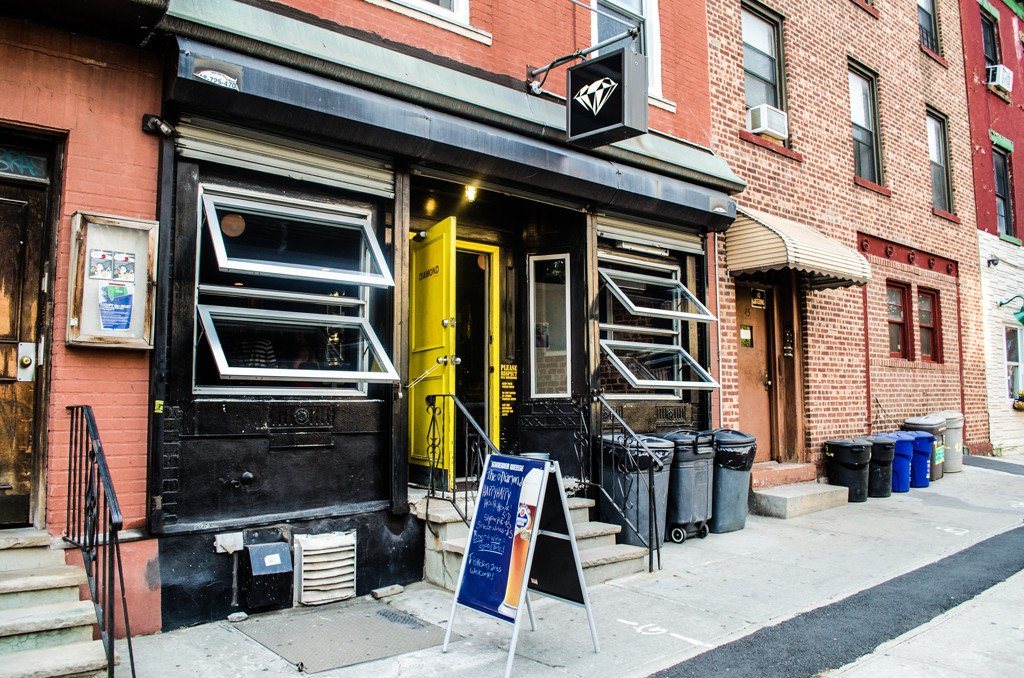 While brewing at home is great fun, the Brooklyn Brew Shop team likes to get out and grab a beer every once in a while. Who doesn't? With that in mind, we would like to give our fellow beer drinkers the scoop on some of the best beer bars in our area. From Brooklyn to Manhattan to the occasional stop out of town, here's where you might find us drinking tonight.
There are very few canary yellow doors in Brooklyn, so when you spot this one, on Franklin Ave. in a sleepy part of Greenpoint, it's hard to ignore. A bright splotch of color among the surrounding brick and concrete, it begs passersby to poke their heads in. If they do — and consequently, step into the Diamond — they'll spy a thriving craft beer bar.
That, and a gleaming shuffleboard table.
This is the Diamond, a chilled-out Greenpoint bar that's about good company and even better beer. While many wonderful beer bars focus on developing massive beer lists, The Diamond offers up a small, carefully curated collection of bottles and taps.
At any time, the bar offers eight rotating drafts along with a bottle count of about 30. Owner Dave Pollock said that despite a smaller list of beers, the Diamond has been striving to offer customers variety in the beer realm since day one, over 8 years ago.
"I think when we opened we wanted to have a really unique, eccentric beer list," Pollock said. "One of the main focuses for me was trying to have as much variety as I could, with a relatively small beer list."
The care to this pursuit is recognizable in his selections: Tiered by strength, the menu features everything from the most sessionable pilsner to tar-dark Black IPAs, and everything in between. Pollock said that when deciding on his menu, he tries to look at the larger trends in beer-drinking at the moment, using the recent passion for wild and sour ales as an example.
"You just kind of think about what broad terms are important," he said. "Right now, for the last year or two, we'll pretty much always have something on that is a sour beer or is brewed with wild yeast. I feel like for us, if we have one beer on like that, or two, that's enough. You could have 50, but if we have one one, and next week it's something different, that's enough of a way to provide variety."
The Diamond is a laid-back, come-on-in sort of place. It's a vibe that extends even to the beer-drinking experience — for Pollock, dashing pretension and welcoming new and old drinkers is a top priority. "We wanted to make it really accessible for people, whether they were beer aficionados and had a lot of experience, or they didn't have any experience."
Visit: The Diamond // 43 Franklin St. Brooklyn, NY 11222 // 718.383.5030
---
We make all-grain beer brewing kits that make it easy to make beer at home. Whether it's your first batch or your hundredth.
---