Recipe

:


Beer Beef Jerky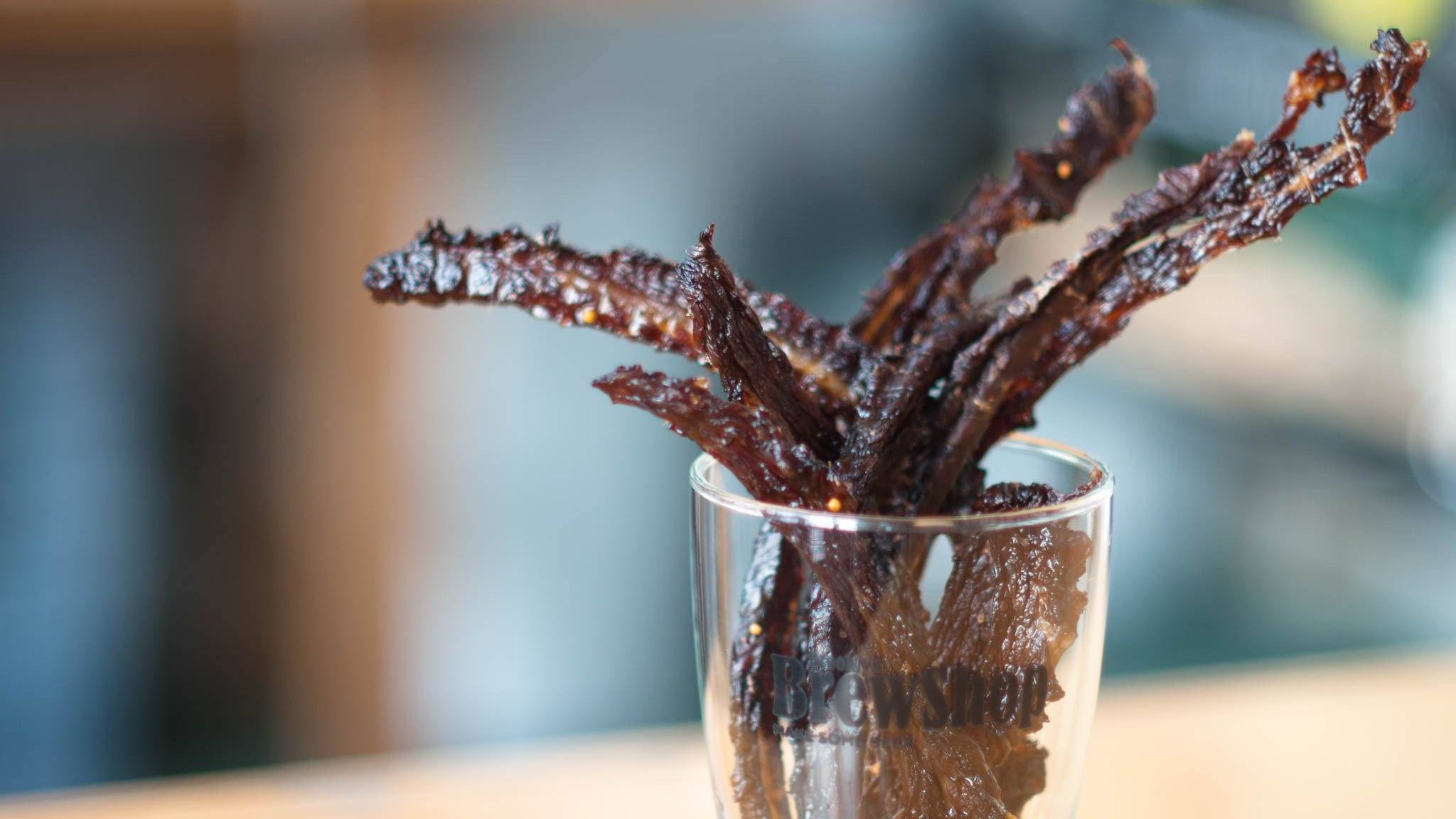 Ah, beef jerky. Long time road trip staple and up-and-coming bar snack. We're pretty big fans of the stuff and figured, why not make a beer spiked version of our own? We marinated ours in our
Bruxelles Black
, but any sweet, darker Belgian ale will do the trick - and choose the fattier flank steak cut for added moisture. Jerky can be prepared in advanced for your next party or upcoming travels since it keeps in the refrigerator for up to two weeks (and leaner cuts of meat even longer), but ours disappeared in a few hours. We get the feeling yours will too.
What You Need
1 1/2 to 2 pounds flank steak
16 oz dark Belgian ale (we love using Bruxelles Black)
1/2 cup soy sauce
2 cloves of garlic, sliced
2 tablespoons honey
1 teaspoon mustard seeds
1 teaspoon hot pepper flakes
1/2 teaspoon black pepper, cracked
1/2 lime, squeezed
What You Do
1. Remove any visible fat from the flank steak, place in a zip-top bag, and freeze for 2 hours to firm up and make slicing easier. Remove the steak from the freezer and thinly slice the meat (against the grain) into long strips.
2. Mix remaining ingredients in a large bowl. Combine the marinade and sliced steak in a zip-top bag, and refrigerate at least 6 hours and up to overnight.
3. Remove the steak strips from the marinade and arrange in a single layer in a dehydrator. Set heat to 160-165 degrees to cook for 6-8 hours or until cooked through but not brittle. Or follow the instructions on your dehydrator. Enjoy! 
---
We make all-grain beer brewing kits that make it easy to make beer at home. Whether it's your first batch or your hundredth.
---