Recipe

:


Beer Can Chicken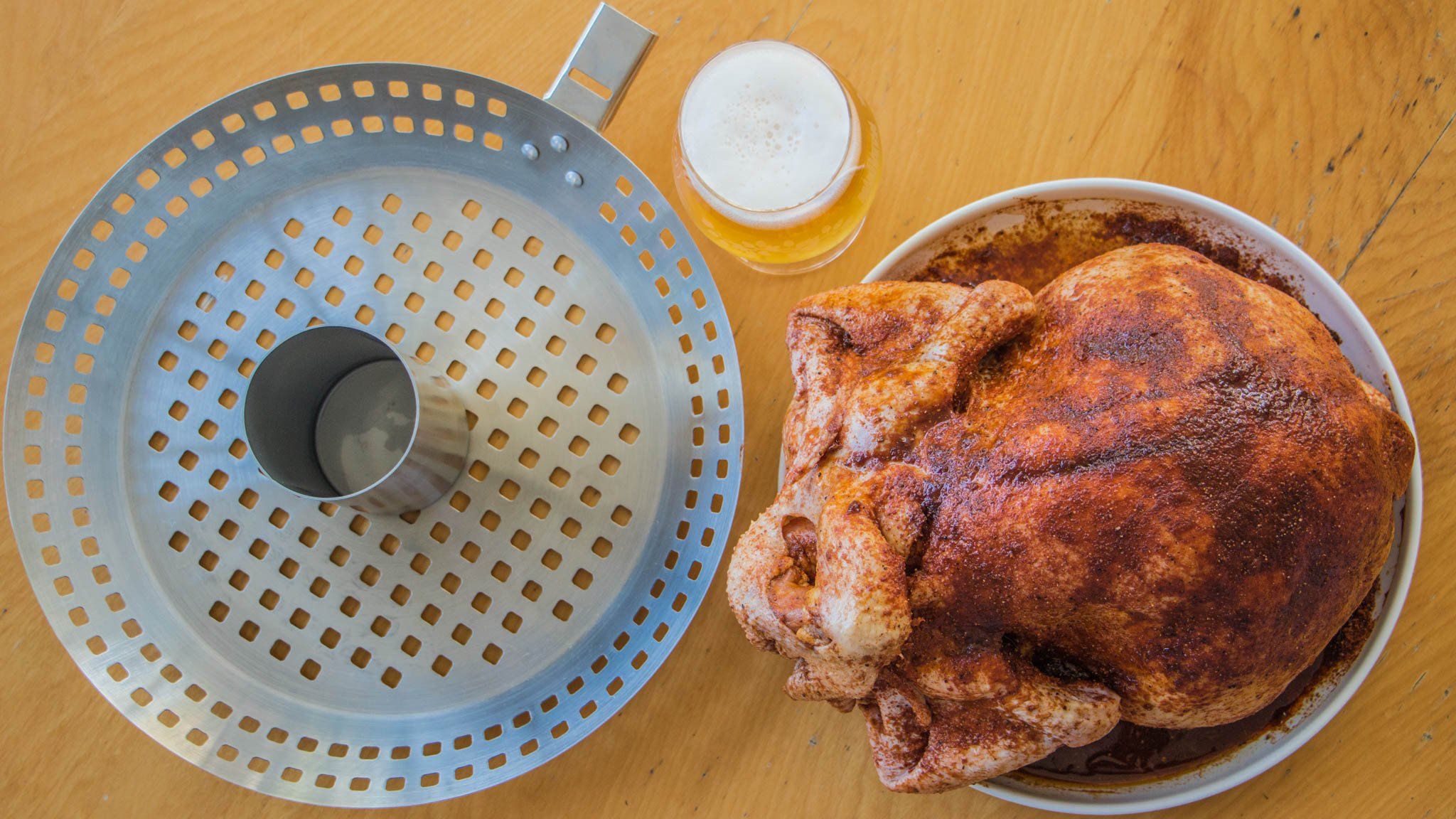 When it comes to cooking with beer, Beer Can Chicken is a popular starting point, and we get it. It's easy. Grilling is involved (and grilling is fun). But most important--it's nearly impossible to end up with anything but intensely moist chicken. We dry-rubbed ours heavily and cooked it with a store-bought Belgian-style saison. There's no need to use homemade beer on this since it's more about the moisture and less about the flavor of the beer you choose. Your best bet is to go with something that isn't too hop-forward but still totally delicious.
There are articles against and supporting the use of an actual can (and the potential hazards) so we opt for a stainless steal rack (and the ability to use whatever beer we have in the fridge).
What You Need
6 tablespoons light brown sugar
3 tablespoons paprika
2 tablespoons kosher salt
1 tablespoon coarsely ground black pepper
1 tablespoon cayenne
1 teaspoon cumin
1 lemon, zested
2 tablespoons olive oil
1 teaspoon cayenne pepper
1 chicken (~ 4 lbs), rinsed and patted dry
12 ounces light flavorful craft beer (we love saisons)
3 garlic cloves, smashed
What You Do
Combine first seven ingredients in a small bowl as a dry rub. Generously cover chicken (inside and out) with olive oil and then the dry rub. Cover loosely with plastic wrap and refrigerate (at least 20 minutes and up to 12 hours)
Preheat oven or grill
Add beer and 3 cloves of garlic to canister in the middle of your rack. Place chicken on canister and use the legs to balance it on rack.
FOR THE GRILL: Heat coals until they are covered in grey ash. Cook indirectly (no coals right under the bird) with the grill cover on for 75 minutes of until the internal temperatures registers 165 degrees F. FOR THE OVEN: Cook at 450 degrees F. for 10 minutes, reduce heat to 325 and cook for an additional hour or until the

internal temperatures registers 165 degrees F. R

est for 20 minutes before carving. Enjoy!
---
We make all-grain beer brewing kits that make it easy to make beer at home. Whether it's your first batch or your hundredth.
---