Recipe

:


Jalapeño Saison Gazpacho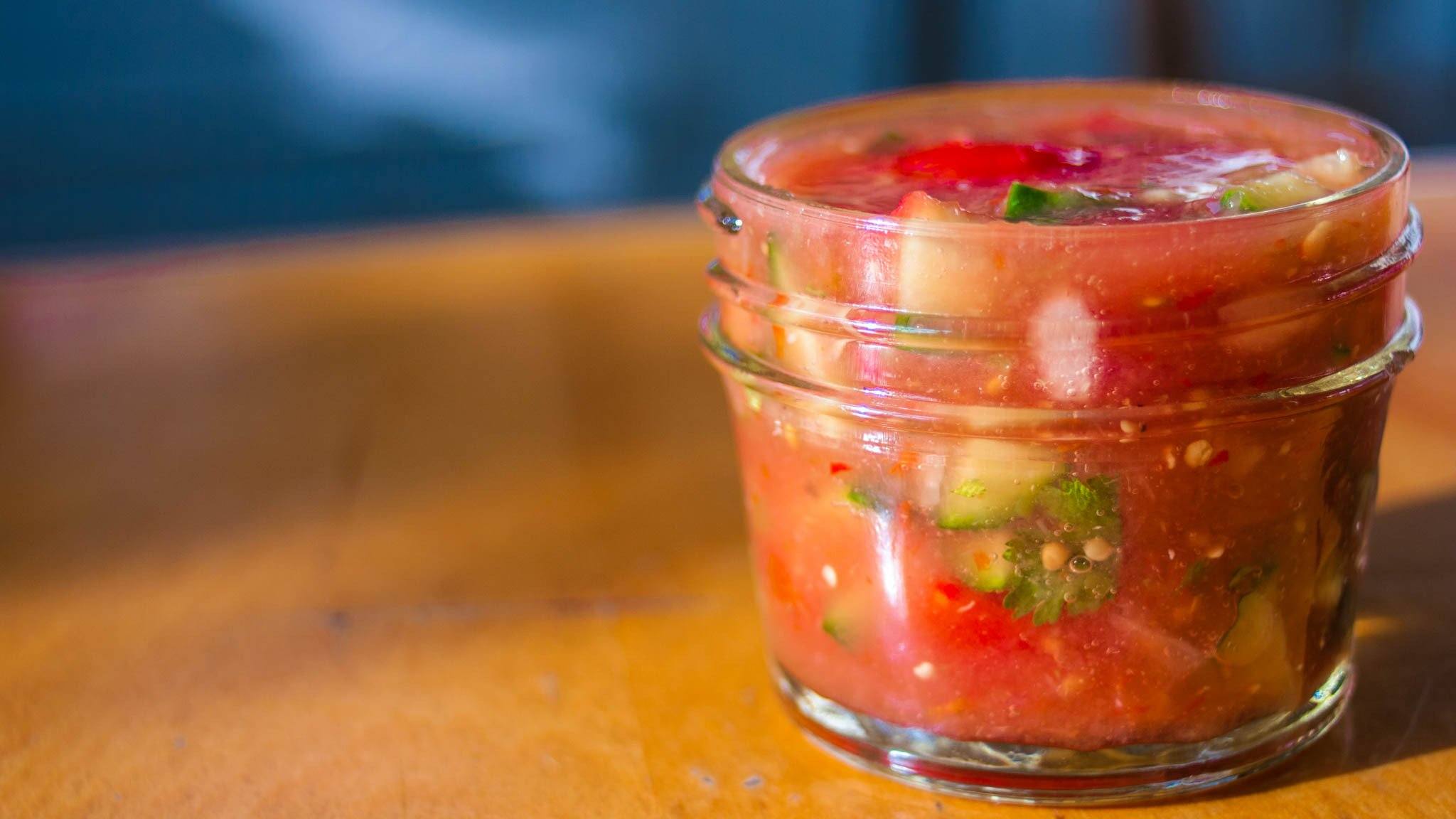 For summertime lunches, when the idea of turning on a stove is unbearable, we turn to to this bracingly refreshing gazpacho. We start with tart tomatillos and sweet tomatoes, add in onion and cucumber and then turn up the heat with a a double dose of jalapeño coming in beer and pepper form. The resulting soup is tart, spicy and entirely satisfying.
While we reserve some tomatoes, cucumber and onion to mix in for a chunkier gazpacho, if you prefer yours smoother blend everything.
What You Need
8 fresh tomatillos, husked, well rinsed, and quartered
8 vine ripened tomatoes, quartered
1 large white onion, chopped and divided
1 large cucumber, chopped and divided
1 jalapeño chopped (with or without seeds depending on heat preference)
1 garlic clove chopped
1 cup Jalapeño Saison
2 tablespoons red wine vinegar
1 pint grape tomatoes, thinly sliced
1/4 cup cilantro, finely chopped
What You Do
In a super blender or food processor, blend the tomatillos, vine-ripened tomatoes, half of the onion, half of the cucumber, jalapeño, and garlic. Stream in the beer and vinegar and blend until smooth.
Stir in remaining onion and cucumber, grape tomatoes and cilantro. Chill for at least one hour to let flavors meld. Enjoy.
---
We make all-grain beer brewing kits that make it easy to make beer at home. Whether it's your first batch or your hundredth.
---