Recipe

:


Peanut Butter Stout Cake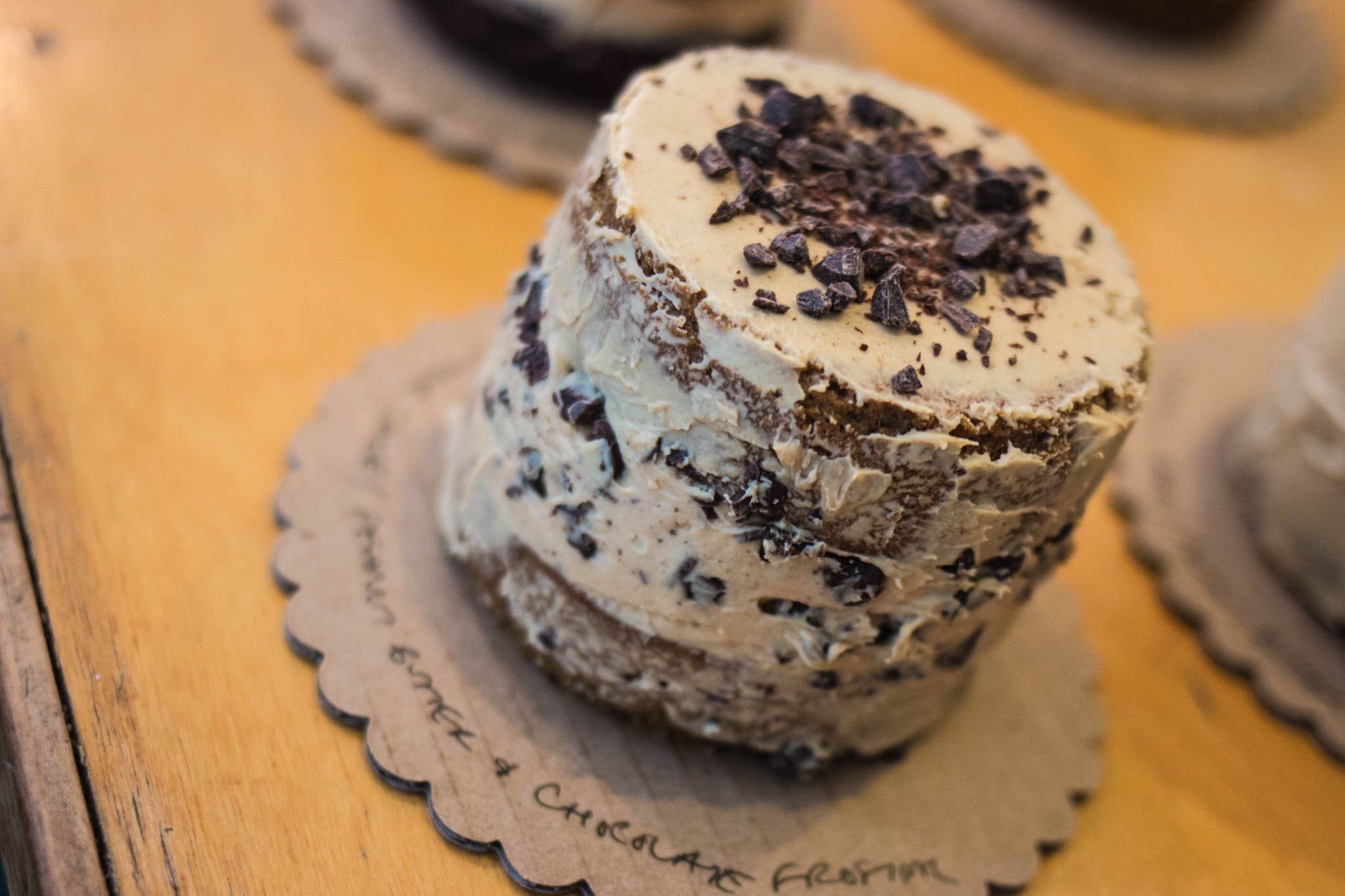 Peanut butter — sweet, creamy peanut butter. Whether you're eating it in a classic PB&J, peanut butter cup, or right out of the jar with a spoon, there's no denying how amazing and versatile it is. Elvis switched things up by introducing America to the peanut butter and banana sandwich. We thought, why not make our very own smooth concoction? After all, we always have peanut butter on hand.
We decided to take this childhood favorite and make it sophisticated by baking a flavor-packed Peanut Butter Stout Cake. We're not sure if peanut butter just goes well with everything or if we just really love peanut butter, but with just a little PB and some of our Oatmeal Stout, this cake made us swoon. The rich, earthy, chocolate flavor combined with the nuttiness from peanut butter added new depth. After topping it off with some frosting, we were in boozy peanut butter heaven.
What You Need for the Cake
1 1/2 cups flour
2 teaspoons baking powder
1/2 teaspoon baking soda
1/2 teaspoon salt
1/3 cup peanut butter
1/3 cup coconut oil
1 cup brown sugar, lightly packed
2 large eggs
 1/2 cup milk
1/2 cup stout (we like Oatmeal Stout)
1 teaspoon vanilla extract
What You Need for the Frosting
1 cup peanut butter
1 stick (8 tablespoons) unsalted butter, softened
3 cups confectioners sugar
 1/4 cup heavy cream
1/4 cup stout (again, Oatmeal Stout is great)
What You Do
Preheat oven to 350 degrees F.
In a medium bowl, combine flour, baking powder, baking soda and salt. Toss to combine.
In a mixing bowl, add peanut butter, coconut and brown sugar and beat until well combined. Add eggs and beat again until combined.
In a small bowl or measuring cup combine milk, stout and vanilla extract.
Mixing on medium low, alternate adding the dry ingredients and the liquid until just combined.
Bake in a well-greased pan for 30 minutes.
Turn out onto a drying rack upside down and let cool fully before frosting.
In a mixing bowl, add in all the ingredients for the frosting and blend on medium-high until fully combined. If frosting is too thick to spread easily add additional cream 1 tablespoon at a time and beat until spreadable.
---
We make all-grain beer brewing kits that make it easy to make beer at home. Whether it's your first batch or your hundredth.
---