Recipe

:


Plum & Ale Tart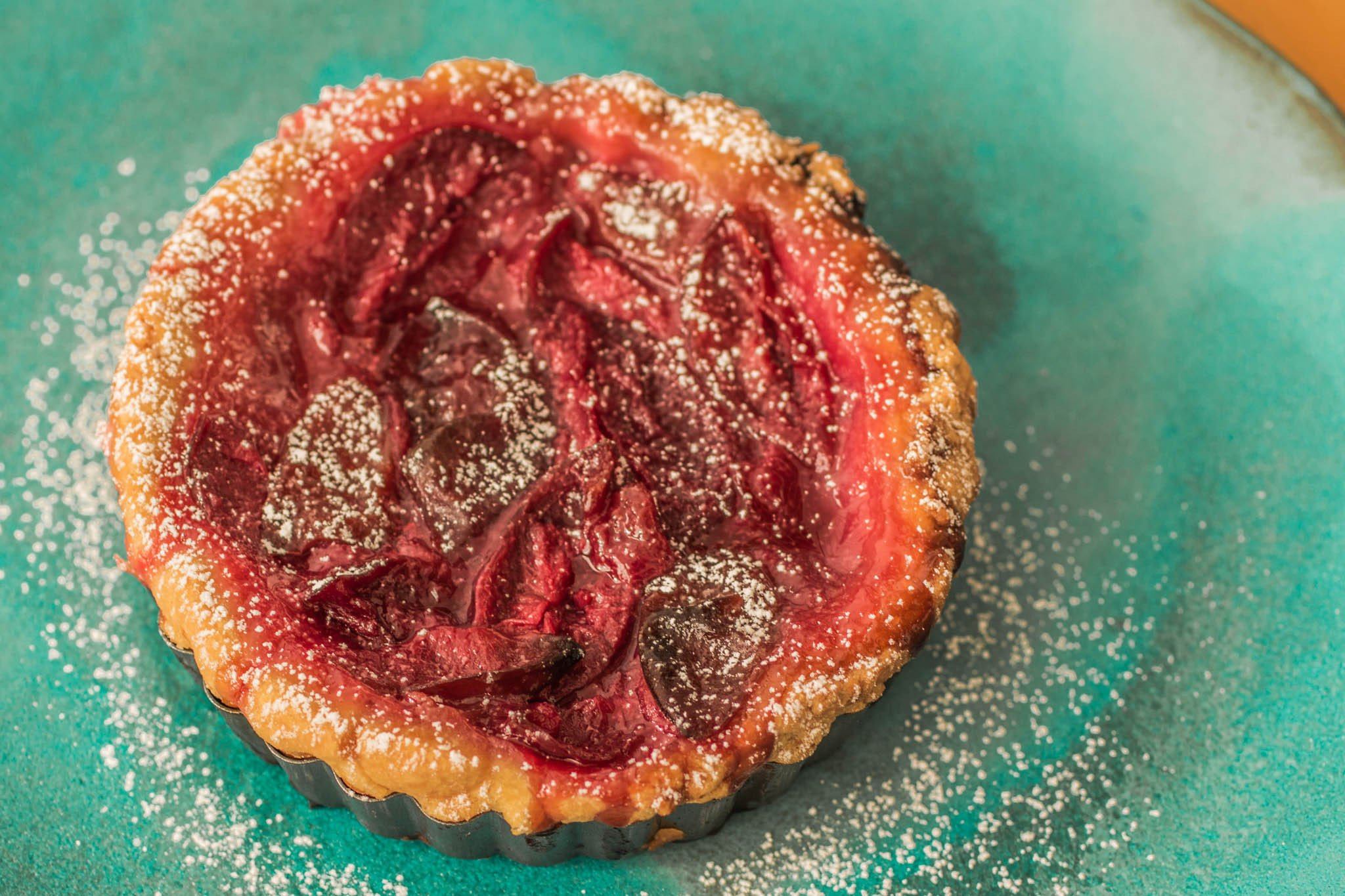 Honestly, we're a bit hesitant when buying plums at the farmers market. Often they're fantastic to eat as soon as you get home. Mouthwateringly juicy and perfectly balanced between sweet and tart, a plum should be far from mealy with skin that's firm but not too firm. But sometimes a plum grown with the best intentions on a beautiful farm somewhere at least an hour from the city just doesn't taste that great no matter how many days you wait for it to ripen up. These plums (and most less-than-ripe pitted fruits) are perfect for baking, and few things are better at accentuating the best and disguising the lesser aspects of an ingredient than tarts. Our Plum & Ale Tart features a delicate, lemony crust and a filling that's succulent and really tasty. The addition of beer imparts a hearty yet citrus-packed richness that makes this one mini-tart overflowing with flavor. For this recipe we used four 4-inch tart pans but it would work well as one large tart.
What You Need for the Dough
1.5 cups of flour
8 tablespoons of butter, cubed and chilled
1/4 cup sugar
1/2 teaspoon salt
1 teaspoon lemon zest
4 egg yolks
What You Need for the Filling
12 ounces light citrusy beer (the Grapefruit Honey Ale works great!)
1/2 cup sugar
1.5 tablespoons cornstarch
2 lbs small plums, halved and pitted
1 tablespoon fresh lemon juice
powdered sugar
What You Do
In a food processor, add all the dough ingredients except for the egg yolk and pulse until the dough resembles course meal.

Add the egg yolks and continue to pulse until dough begins to clump.

On a floured work station, divide the dough into four equal portions and flatten into disks the same size as your tart pans. Press dough into the bottom of the tart pans and transfer to the refrigerator to chill for at least 30 minutes.

While the dough it chilling make the filling.

In a saucepan over medium-high heat bring the beer to a boil. Reduce heat to medium-low and simmer until beer is reduced to 1/4 cup.
In a large bowl, add reduced beer, sugar and corn starch, whisk to combine. Add plums and lemon juice and toss to coat. Let sit for 30 minutes until plums start to lose their juices.
Preheat oven to 425 degrees F.
Pack plums in a closing-knit single layer in tart shells. Pour juices over the plums.
Bake tarts for 15 minutes. Reduce heat to 375

degrees F.and back for an additional 45 minutes (1 hour total).

Remove from over and let tarts cool and juices thicken. Dust with powdered sugar and enjoy.
---
We make all-grain beer brewing kits that make it easy to make beer at home. Whether it's your first batch or your hundredth.
---