Recipe

:


South-Asian Beer Wings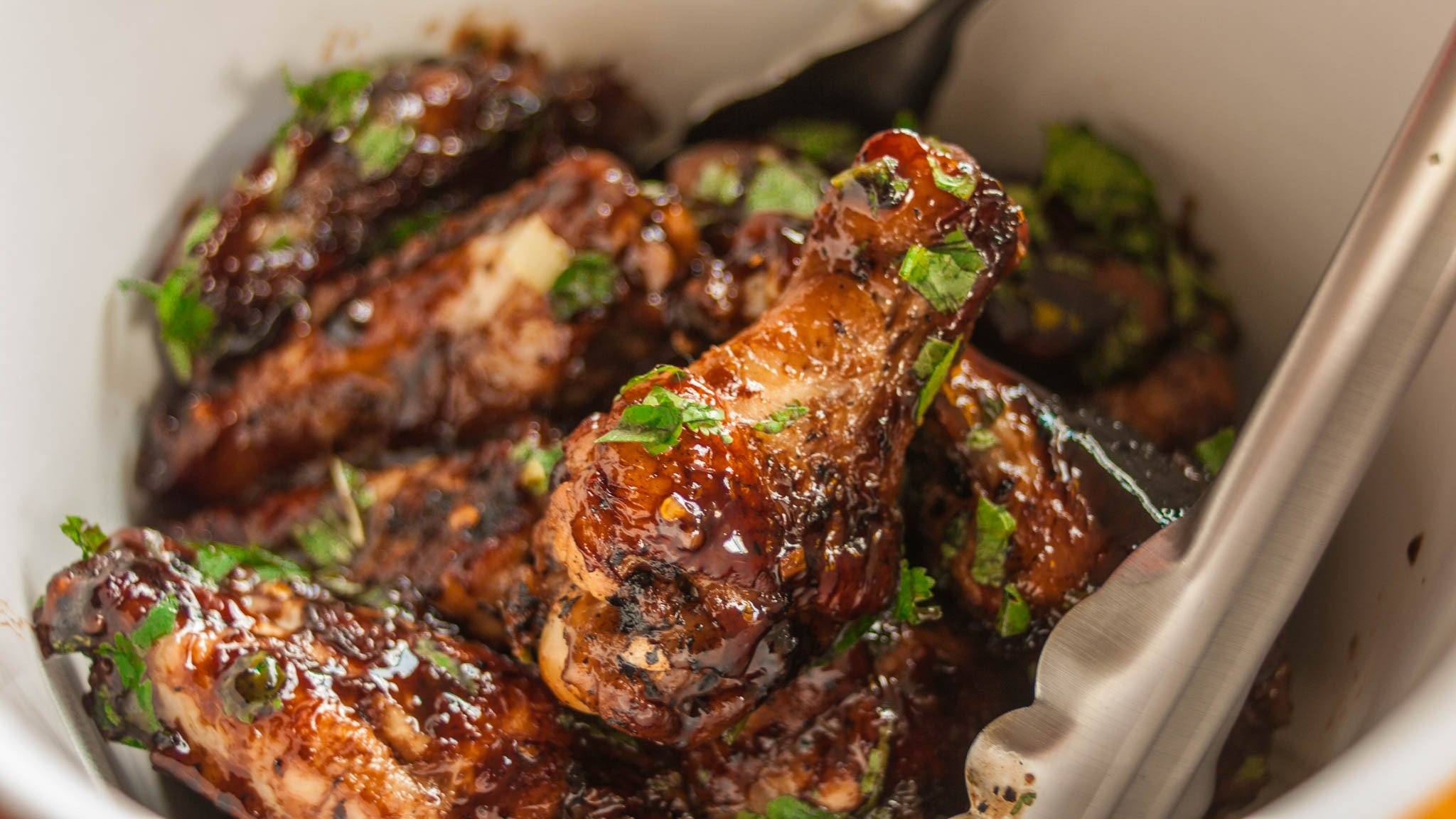 If you're watching football all weekend, you obviously will need some wings to go with your brews. These sweet and spicy South Asian-inspired wings, are marinated and cooked with our favorite dark beer, bringing a whole new level of delicious to the game time experience.
Our go-to bottles are the Oatmeal Stout or Chocolate Maple Porter but any dark, flavorful craft stout or porter will work. Add in chili peppers and fresh grated ginger to pack the heat all spice lovers are looking for. Better yet serve them alongside our Beer Hot Wings and the food table may end up being the only thing your fellow spectators are watching.
What You Need
1 12-ounce bottle + 1 cup dark, flavorful beer such as Oatmeal Stout or Chocolate Maple Porter
3 lbs wings
1/2 cup Asian fish sauce
1/2 cup confectioners sugar
3 dried chili peppers, chopped
2 cloves garlic, minced
2 tablespoons ginger, freshly grated
3 scallions, green parts only, thinly sliced
1/4 cup chopped cilantro
1/4 cup chopped mint
What You Do
Rinse chicken under cold running water and blot with paper towels to dry. With a sharp knife remove the tips off the wings and discard. Then cut again again through the joint.
Marinate wings in beer in a non-reactive container in the refrigerator at least 5 hours and up to overnight.
Drain the wings and blot with paper towels to dry.
Heat a large skillet over medium-high heat. When pan is hot, cook the chicken wings (in batches), turning once, until golden, about 8 minutes. Remove from pan.
Add the ginger, chiles, and garlic and cook, stirring, until fragrant, about 1 minute. Return wings to the pan in a single layer.
In a small bowl whisk the fish sauce, beer, and sugar. Pour over wings and bring to a simmer. Reduce heat to medium-low, cover and simmer for 10 minutes.
Uncover and cook over medium-high heat, tossing wings occasionally, until the sauce has reduced to a thick glaze, about 5 minutes.
Transfer the chicken wings to a platter and scatter the scallions and herbs on top. Enjoy.
---
We make all-grain beer brewing kits that make it easy to make beer at home. Whether it's your first batch or your hundredth.
---