Recipe

:


Spent Grain Cheddar Scones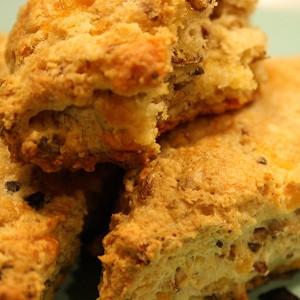 The scone has become a welcome addition to tables far beyond the English Isles where they were first popularized. Be it tea time, dinner time or snack time, the humble scone fills the midground in between baked good and bready bite when you need something substantial and flavorful to nosh on.
Although they come in sweet varieties meant to be enjoyed with jam and clotted cream, this recipe is for cheesy, savory (spicy should you choose to add a chopped and seeded jalapeño) scones that utilize the crusty texture and nutty taste of spent grain to complement the sharpness of shredded cheddar.
They can be enjoyed by themselves, with butter, or with your favorite sugary spread if you're into that whole sweet-savory thing.
WHAT YOU NEED
1 1/2 cups all-purpose flour
3/4 cup Spent Grain, dried
2 1/2 teaspoons baking powder
2 teaspoons granulated sugar
1/4 teaspoon salt
4 tablespoons cold unsalted butter, cut into pieces
1 1/4 cup (6 ounces) shredded cheddar cheese
1/2 cup buttermilk
1 large egg
WHAT YOU DO
Preheat oven to 400 degrees and line a baking sheet with parchment paper.
In a large bowl, stir together flour, spent grain, baking powder, sugar, and salt. With a pastry blender (or using two knives), cut in butter until mixture resembles coarse meal. Stir in the cheese to combine.
In a small bowl, whisk together the buttermilk and egg. Add it to your dry ingredients, stirring just until the dough comes together.
Turn the dough out onto a clean surface and gently flatten into an 8-inch round. Use a knife to cut the circle into eight triangles. Transfer scones onto the sheet pan and bake until golden brown, about 20 minutes. Serve hot and with butter!
---
We make all-grain beer brewing kits that make it easy to make beer at home. Whether it's your first batch or your hundredth.
---