Recipe

:


Spent Grain Coffee Stout Coffee Cake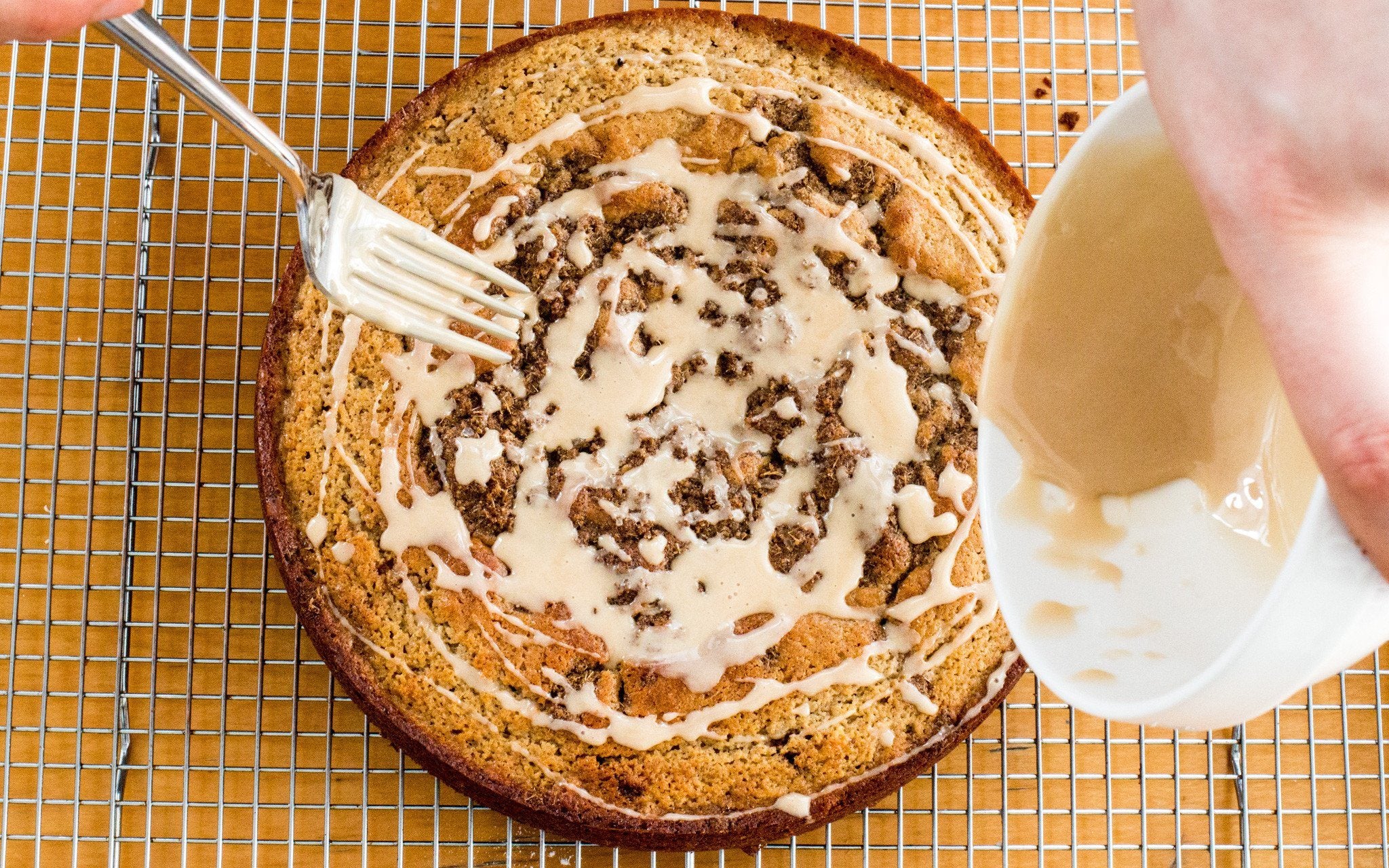 Coffee cake is thought to have originated in Germany but has evolved throughout the years across different continents to bring us the huge variety of coffee cakes we have today. Traditionally, coffee cake is flavored with - you guessed it - coffee. Here at Brooklyn Brew Shop, we know and love that liquid sunshine all too well, and so wanted to pay homage with our own recipe.
We decided to put a twist on this classic breakfast treat by mixing Spent Grain Flour into the cake itself and its deliciously crumbly Streusel topping. The addition of the Spent Grain adds a comforting nutty flavor perfect for decadent pastries like coffee cake. With an extra beery boost from some rich coffee stout (in the glaze), this one's gonna have your brunch guests fighting for seconds and savoring every bite.
WHAT YOU NEED FOR THE CAKE
12 tablespoons unsalted butter (at room temperature)
1 1/2 cups light brown sugar
4 large eggs (at room temperature)
1 1/2 teaspoons vanilla extract
1 1/4 cups buttermilk
2 cups cake flour
1/2 cup spent grain flour
2 teaspoons baking powder
1/2 teaspoon baking soda
1/2 teaspoon kosher salt
WHAT YOU NEED FOR THE STREUSEL
1/4 cup light brown sugar, packed
1/2 cup spent grain flour
1 1/2 teaspoons ground cinnamon
1/4 teaspoon coarse salt
4 tablespoons unsalted butter (melted)
WHAT YOU NEED FOR THE GLAZE
1/2 cup powdered sugar
2 tablespoons coffee stout
WHAT YOU DO
In a small bowl, combine all the ingredients for the streusel. Chill in the freezer while you make the rest of the cake.
Preheat the oven to 350 degrees F. Grease and flour a 10-inch bundt or spring form pan.
In a medium mixing bowl, sift together the dry cake ingredients (flours, baking powder, baking soda and salt), set aside.
In the mixing bowl of a stand mixer, using the paddle attachment, cream the butter and sugar. With the mixer on low, add the the dry ingredients until just combined.
Pour 2/3 of the batter into pan and, crumble 2/3 of the streusel in an even layer, cover with remaining batter and than scatter remaining streusel on top.
Bake for 50-60 minutes until a tooth pick comes out clean.
Let cool on a wire rack for 20 minutes before unfolding.
Whisk the powdered sugar and beer together to make a glaze. Drizzle over cake. Enjoy!
---
We make all-grain beer brewing kits that make it easy to make beer at home. Whether it's your first batch or your hundredth.
---