Recipe

:


Spent Grain Granola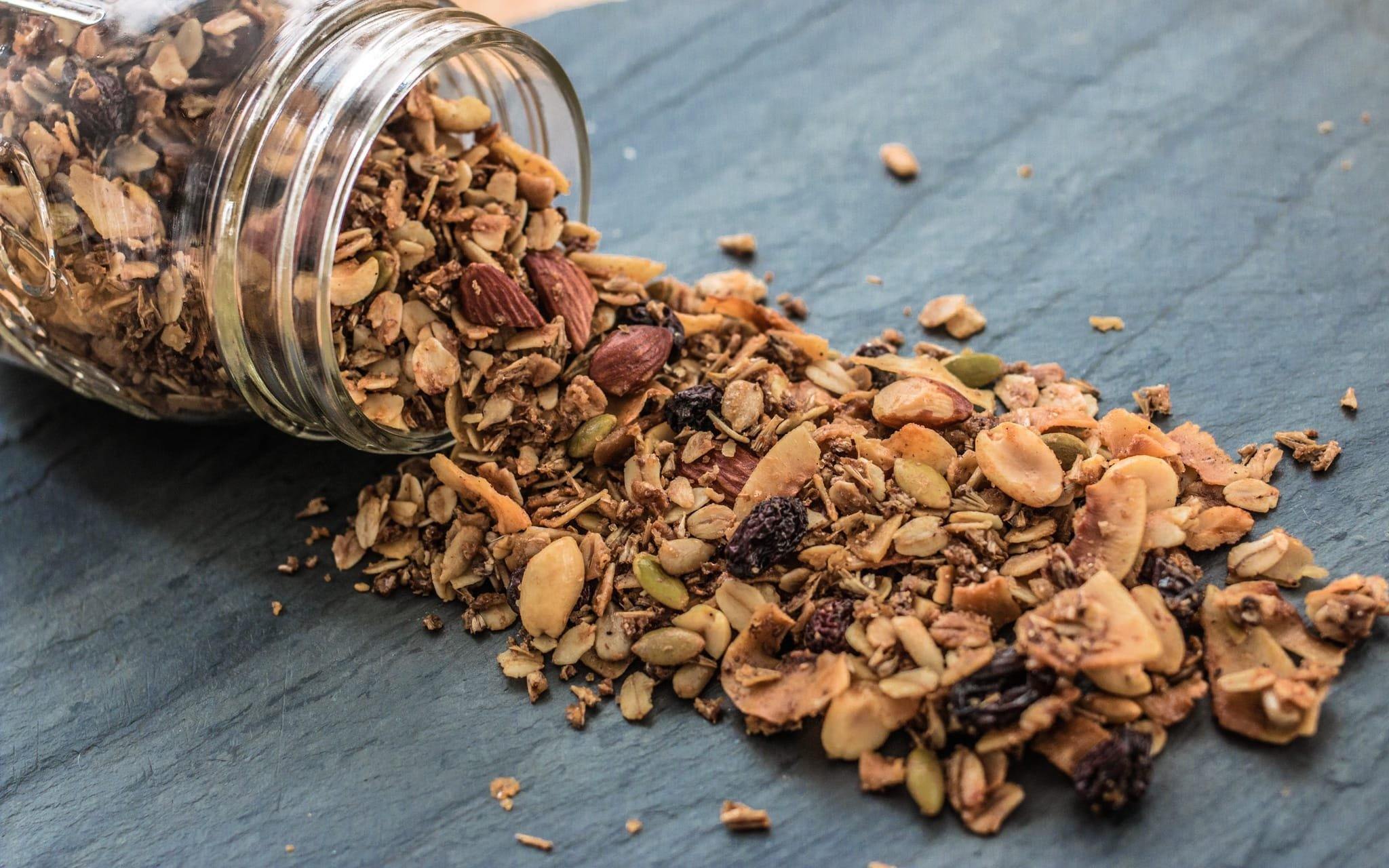 Granola is one of those recipes that we are constantly changing based on what combination of dried fruit, nuts and seeds are on hand. This spiced oven-baked granola uses spent grain, rolled oats, nuts, seeds and coconut flakes (along with some maple syrup and brown sugar for sweetness).
Our general rule is to keep the ratios for sugar, oil and our base of rolled oats and dried spent grain the same (Check out: How to Dry Spent Grain for instructions), but from there play with whatever ingredients are in season or on hand. Pistachios and dried apricots have made it into delicious versions, as have cinnamon and dried apples. Let us know what combination you try! 
WHAT YOU NEED
1 1/2 cups Dried Spent Grain
1 1/2 cups rolled oats
1 cup raw nuts, coarsely chopped (we used almonds, cashews and peanuts)
1 cup unsweetened coconut flakes
1/2 cup raw seeds, hulled (we used pumpkin and sunflower)
1/2 cup coconut oil
2/3 cup maple syrup
1/2 cup light brown sugar, packed
1/4 teaspoon nutmeg
1/4 teaspoon all-spice
1/4 teaspoon chili powder (optional)
1/4 teaspoon salt (plus more to taste)
1/2 cup dried fruit (optional)
WHAT YOU DO
Preheat oven to 300 degrees F
In a large bowl, combine all ingredients (except for dried fruit, if using) and stir with a spatular until well mixed.
Line a rimmed baking sheet with parchment paper or a silicon baking mat. Spread the granola mixture evenly and bake for 45-50 minutes stirring every 10 minutes.
 Let granola cool completely on a rack. Once cool, toss granola with dried fruit. Transfer to an airtight container and store for up to a month (although we normally devour it within a day or two). Enjoy!
---
We make all-grain beer brewing kits that make it easy to make beer at home. Whether it's your first batch or your hundredth.
---