Recipe

:


Spent Grain & Peanut Butter Kiss Cookies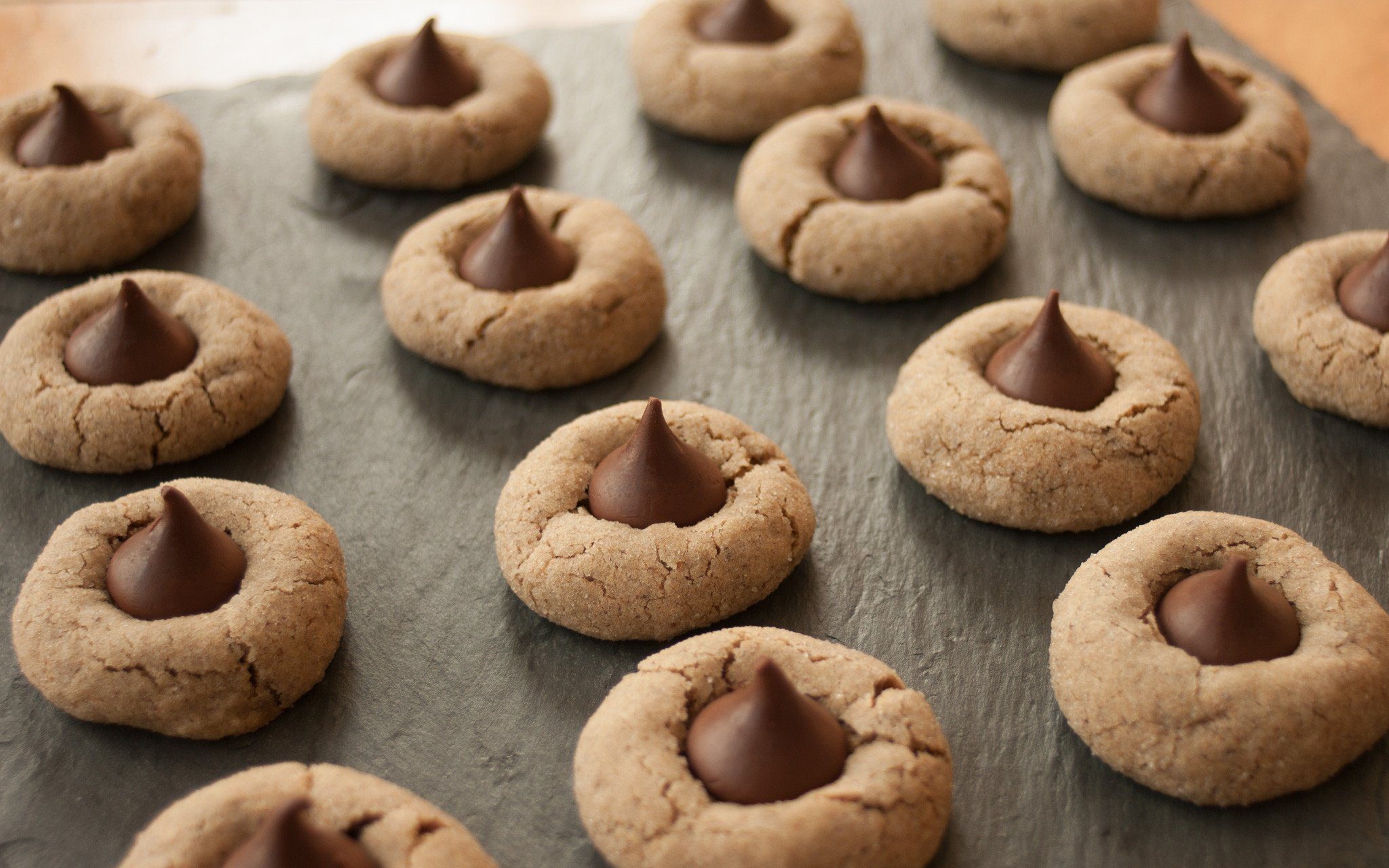 It's no secret that we love cookies. Or peanut butter cookies. And we like them even better when our peanut butter cookies come with a dollop of chocolate in the middle. So that's why we're updating our childhood favorite cookie, the peanut butter kiss cookie, with some spent grain.
The touch of Spent Grain Flour, using dried spent grain, adds an even nuttier punch to the melt-in-your-mouth chocolate. So grab those chocolate kisses (and a few extra, for snacking on while baking) and a beer (like maybe our Oatmeal Stout) for a day of spent grain and baking fun.
WHAT YOU NEED
1 cup all-purpose flour
1/4 cup Spent Grain Flour
1 teaspoon baking soda
1/2 teaspoon salt
1 cup sugar
1/2 cup light brown sugar, packed
8 tablespoons (1 stick) unsalted butter, cut into small cubes
1/2 cup peanut butter
1 large egg
1 teaspoon vanilla extract
30 chocolate kisses
WHAT YOU DO
Preheat oven to 350°F with racks in the upper and lower third of the oven.
In a large bowl, sift together the flour, baking soda, and salt.
In a stand mixer with a paddle attachment beat 1/2 cup sugar with the brown sugar, butter, and peanut butter until fluffy. Add the egg and vanilla extract and beat on medium until well blended. With the mixer on low, add the flour mixture and stir until just combined.
Place remaining 1/2 cup sugar in a small bowl.
Roll the dough into 1" balls, roll in sugar, and arrange on baking sheet, leaving about 2 inches between cookies. Bake on the lower rack for 4 minutes, move the cookies to the upper rack and continue baking until the cookies just start to brown about 5-6 additional minutes.
Remove the cookies from the oven and press a chocolate kiss into the center of each.
Cool the cookies on baking sheets for 10 minutes before transferring to a wire rack to cool completely. Enjoy!
---
We make all-grain beer brewing kits that make it easy to make beer at home. Whether it's your first batch or your hundredth.
---