Recipe

:


Stout Sticky Buns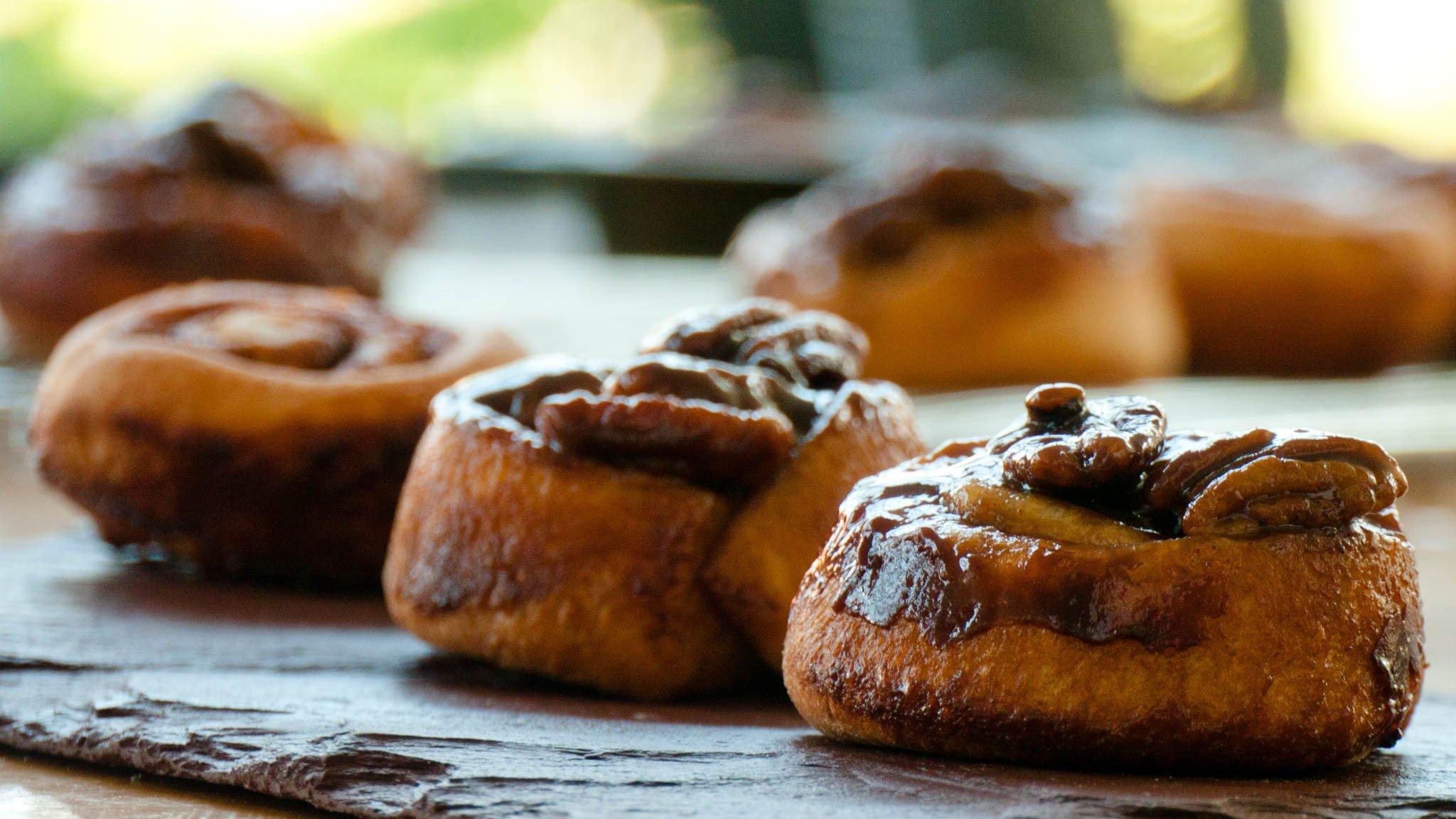 When Erica's grandfather injured his hand working on the railroad his doctor's orders were to buy a 50 lb sack of flour and get kneading. The result of this at home physical therapy was a lifelong love of baking. Papa's pies, calzones, and pecan rolls were fought over and his recipes sought after.
We love baking these in cupcake tins and letting the sides crisp up but you can certainly group them in a baking pan for a pull apart roll as well. The secret for an airy roll is letting the dough rise twice (once in the mixing bowl and once in the pan). And while we tweaked it a bit (there was certainly no beer in his sticky butterscotch topping) we think Papa would approve.
What You Need for the Buns
2 1/3 cups flour
3 tablespoons sugar
1 teaspoon salt
1/2 packet active dry yeast
Scant 1 cup water
3 tablespoons butter
What You Need for the Sauce
1/3 cup stout or porter
1/4 cup packed brown sugar
4 teaspoons honey
1 tablespoon butter
3 tablespoons cream
What You Need for the Filling
1 1/2 tablespoons butter, melted
3 tablespoons cup cinnamon sugar
What You Do
Mix together one cup of flour with sugar, salt, and yeast in a large mixing bowl. Beat for 2 minutes at medium speed while slowly adding water and butter. Add an additional 1/3 cup flour. Beat for 30 seconds at low speed then at high speed for an additional 3 minutes while slowly adding another 1 cup flour.
Knead for 10 minutes. Dough should feel smooth and elastic. Cover and let rise for one hour.
While the dough rises, create the sauce. In a pan over medium heat, reduce the beer to about 1/4 of its original volume, and stir in brown sugar. When the mixture reaches 230 degrees, stir in the honey and butter. Remove from heat. After the mixture has cooled for 5 minutes, stir in cream and set aside.
Roll half of dough into a rectangle. Brush with butter and sprinkle generously with cinnamon sugar mixture.
Roll dough into a long log (like a jelly roll).
Slice into 12 pinwheels. Repeat with second half of the dough.
Place several pecans and 1 tablespoon of sauce at the bottom of each muffin tin, and place a pinwheel in each tin. Allow buns to rise for another hour in the tins. Preheat oven to 425 degrees.
Bake for 11-12 minutes. Remove from pans and cool on a wire rack for several minutes.
Enjoy!
---
We make all-grain beer brewing kits that make it easy to make beer at home. Whether it's your first batch or your hundredth.
---