Recipe

:


Sweet Potato Beer Hash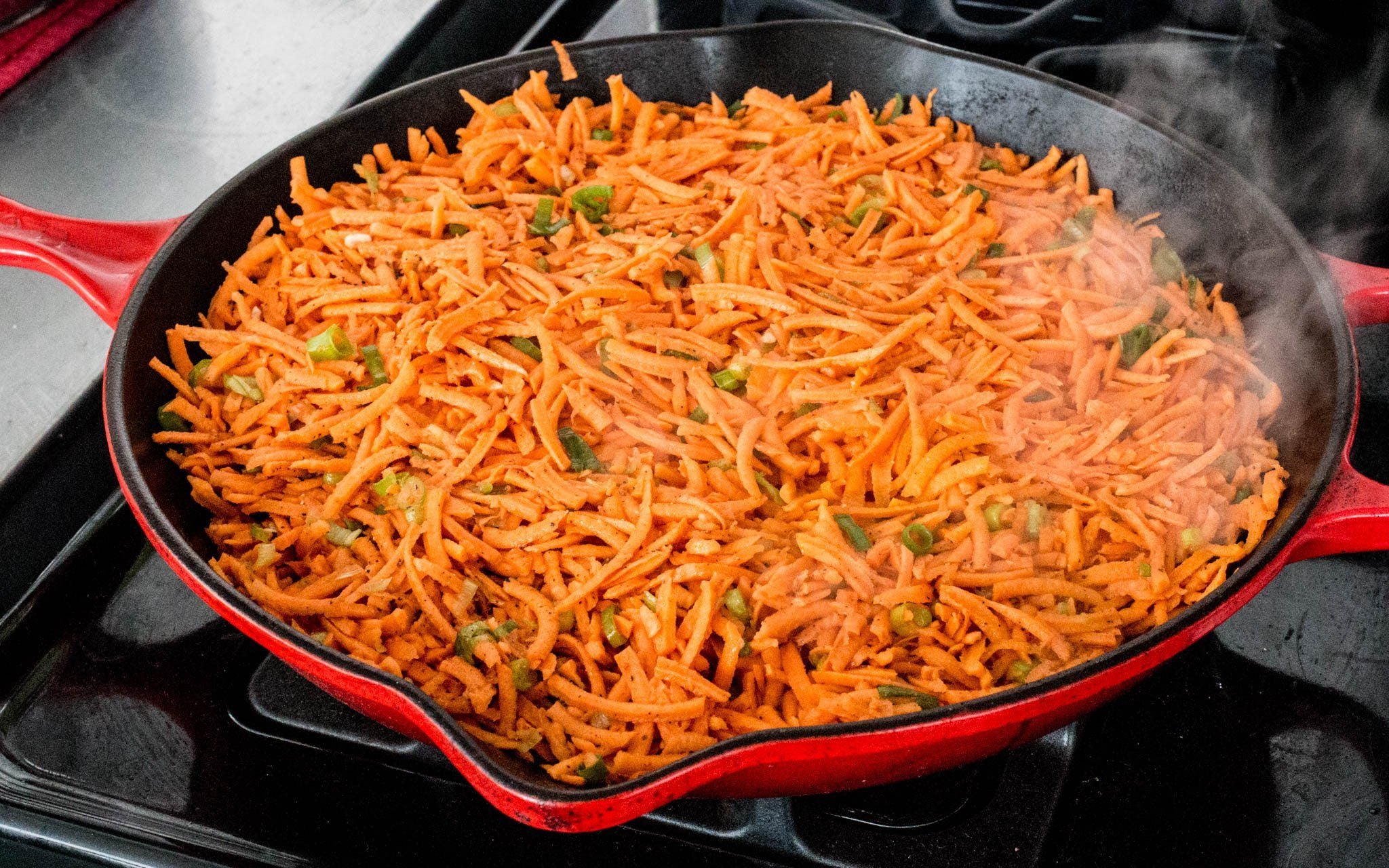 You've got your biscuits, you've got your bacon, but might we suggest a new brunch staple: sweet potatoes! A solid substitute for over-greased hash browns, this recipe is soaked in beer but still super healthy. Imagine the crispy, carb-y goodness of a baked sweet potato dipped in the refreshing, lightly hoppy taste of your favorite pale ale and you've got the Beer Soaked Potato Hash. It's a perfect (and vegan!) addition to any boozy brunch.
This modern take on a diner breakfast staple is not only delicious, but good for your gut. Using sweet potatoes instead of regular golden potatoes, coconut oil instead of vegetable oil, and beer flavor sans-alcohol (it cooks off in the skillet), the simple mix of ingredients won't have you wondering what's on your plate before you dig in.
What You Need
3 pounds sweet potatoes
3 12-ounce bottles of Grapefruit Honey Ale or another craft pale ale
1 1/2 teaspoons coarse salt
1/4 teaspoon black pepper
1/4 teaspoon cayenne
5 tablespoons coconut oil
1 bunch scallions, thinly sliced
What You Do
Peel and grate sweet potatoes, place in a non reactive container and cover with beer. Chill for three hours and up to overnight. Strain and pat dry.
Toss the sweet potatoes with salt, pepper, cayenne, and half the scallions, until combined.
In a large, non-stick skillet (cast iron if you have it) heat the oil over medium-high heat, add sweet potato and scallion mixture to pan and press into an even layer. Cook for 15 minutes. Break-up with a spatula and cook and additional 10-15 minutes until cooked through with some crispy bits.
Top with sour cream (optional) and remaining scallions. Enjoy!
---
We make all-grain beer brewing kits that make it easy to make beer at home. Whether it's your first batch or your hundredth.
---