A Complete Guide to Stouts and Porters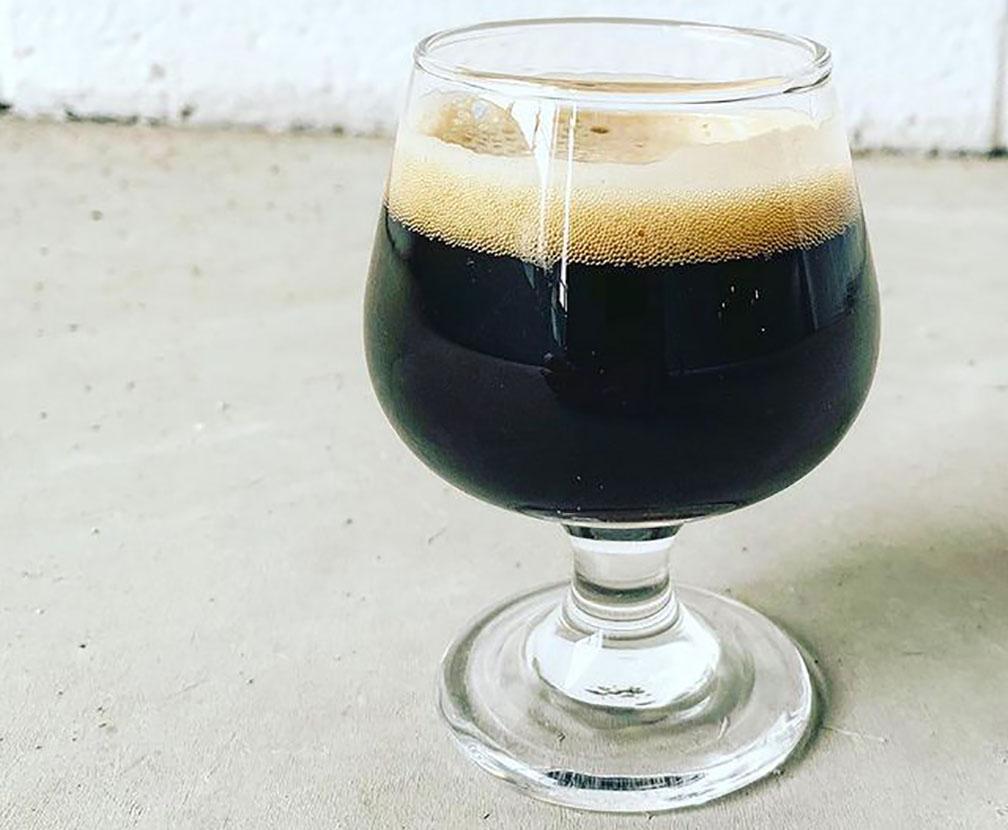 Porters and Stouts come in a range of styles from sweet to bone-dry, chocolatey and mild to bitter and roasted. They're generally dark brown to black in color and are full-bodied, though not necessarily high in alcohol.
We absolutely love sipping a rich, creamy, caramelized dark beer--especially on a blustery day. And brewing your own stout or porter couldn't be easier or more rewarding. All the flavor is in the grain--mostly malted barley with the addition of roasted malts and other adjusts, depending on the exact style you're brewing. And if you're looking to make your own dark beer, check out our collection of Beer Making Kits and Mixes for dark beers. They make it super-simple to brew your own dark beers at home.
Here are a few of the most popular types of stouts and porters that you'll find today. 
Dry Irish Stout
Guinness is the quintessential Dry Irish Stout. These beers are balanced and dry (meaning not sweet), relying on unmalted dark-roasted barley for that rich dark color, aroma, and taste. This stout is a tad bitter since unmalted barley on its own doesn't add much fermentable or residual sugar to a beer. Dry Irish Stouts have a characteristically super-dark appearance, smooth finish, and a lower ABV than other stouts--often under 5%. Guinness, in particular, is carbonated with nitrogen (or Nitro). The bubbles for nitrogen are much tinier than those of carbon dioxide (which typically carbonates beer). So that's why it's especially creamy and smooth.
Milk Stout
Milk Stouts stand out thanks to the addition of lactose, or the sugar found in dairy. The final product is a smooth, creamy beer with a soft sweetness and a finish like chocolate milk or a milkshake. Milk Stouts, like 11 Below Brewing's Negative Space, are usually full-bodied but can occasionally have lower ABVs. They're often brewed with flavors like coffee, cacao nibs, coconut, or vanilla for a truly delicious beer. To make your own, check out our Milk Stout Beer Making Mix.
Oatmeal Stout
Adding oats to a stout gives your beer a smooth texture and creamy mouthfeel without too much sweetness. If you're lucky and you stumble across a beer like Schlafly's Oatmeal Stout, it'll have the aroma of a freshly-baked oatmeal cookie and go down with ease. And to brew your own, our Oatmeal Stout Beer Making Kit is perfect for a jet black beer that's smooth and creamy enough for extended drinking sessions. 
Oyster Stout
Yes, actual oysters are used when brewing an Oyster Stout. The salty sea-spray flavor from the oyster complements the brew with a gentle salinity that evokes caramel notes. It's kinda like adding a little sea salt to chocolate. It's just works! The creamy texture of a stout helps keep the flavors in balance. If you ever find yourself in Dublin, London, or New York; head to one of Porterhouse Brew Co.'s bars and try their oyster stout. 
Pastry Stout
A Pastry Stout is precisely what you might think it is—a cake or cookie inspired beer. Thanks to their rich, sweet base, stouts are ideal backdrops for lots of ordinary baking ingredients like cinnamon, coconut, chiles, and cacao nibs. Blueberry Cheesecake Stout? It exists. German chocolate cake-inspired stouts, and Texas Pecan ice cream stouts round out some favorites from this fun take on a traditional style. Pastry Stouts are often higher in ABV, which helps them stand up to high residual sugar contents. Try making your own Oatmeal Raisin Cookie Stout with our recipe in the Make Some Beer book. 
Coffee Stout
Stouts pair effortlessly with coffee, which is why the combination is so prevalent. The dark, malty characteristics of stouts work well with the chocolatey, bittersweet notes that coffee lends to a brew. Lagunitas Cappuccino Stout or Black House by Modern Times are great examples. Our personal favorite is Mikkeller's famous Beer Geek Breakfast, which you can make at home with our collaboration Beer Making Kit and Mix. 
Imperial Stout/Russian Imperial Stout
Imperial Stouts have really high ABV's--often above 8%. These big beers generally feature intense sweetness and distinctly dark chocolate, roast, or coffee flavors. Imperial Stouts were first brewed in Europe, with many noting that England often brewed big stouts for their Russian patrons. Because of the association, Imperial Stouts are often called Russian Imperial Stouts. North Coast Brewing makes a mean Imperial Stout called Old Rasputin, and you can make your own Imperial Stout with our Black is Beautiful Meer Making Kit and Mix, part of a collaboration with breweries across the United States led by Weathered Souls Brewing with the goal of ending racism and making the craft beer world more inclusive.  
Barrel-Aged Stout
When you put a stout in wooden barrels, something special happens. The barrel's flavors, often oak and vanilla, merge beautifully with the dark flavors of the roasted malts. Used whisky casks, for example, offer incredible depth and can completely refine a stout into a luxurious sipper of a beer. A great example is New Holland's Dragon's Milk. Want to brew your own barrel aged stout, but don't have the space for a barrel? No problem. When you're brewing on the small scale (like in your kitchen), there are a smart shortcuts you can take to get that big barrel flavor without the lengthy aging time or the expansive barrel room. Both our Rum Barrel Porter Beer Making Mix and our Bourbon Dubbel Beer Making Mix use charred oak chips, providing that barrel-aged flavor, without the barrel. Simply soak the oak in your preferred spirit then add the chips and booze to your beer post-boil. As it cools, the heat from your beer will draw out all the flavors of the charred oak. It's a really neat trick that you couldn't really do on a massive scale--but works amazingly well at home. When developing your own beer recipes, there are important factors to consider before deciding to barrel age. You can read about them and learn more about barrel aging here. 
Brown Porters/English Porters
Brown Porters are lighter, particularly hoppy English porters, with ABV's of 4-5.4%. Often grouped together, these beers are quite dark, occasionally black or with a red tint. The English Brown Porter recipe requires British Pale Ale malt, brown malt, or chocolate malt. These lend a nutty, chocolaty, toffee flavor and medium malt sweetness. Brown Porters tend to be softer and sweeter than traditional porters. We love our Peanut Butter Porter recipe, which is a brown porter made with natural peanut butter for the perfect amount of nuttiness. Find the recipe in our Beer Making Book. 
More robust English Porters have higher ABV's between 4.8-6.5% with darker and more intense flavors. They usually rely on roasted and/or black patent malts. They feature a balanced yet restrained roast and hop forwardness. Back East Brewing Co.'s Porter is an excellent example of an English Porter. 
Baltic Porter
Baltic Porters are essentially fortified English Porters. They typically range in ABV from 5.5-10% and can often drink like a stout. Baltic Porters are notorious for their molasses, chocolate, licorice, and toffee characteristics that make them very dark. The higher ABV adds a little sweetness and some fruity esters like you'll find in Victory Brewing Co.'s Baltic Thunder.
Imperial Porter
An Imperial Porter is an extra-strong porter that is often confused with Baltic Porters, but these are even bigger at around 7.5-9.5% ABV. They are made with more roasted barley or black malts than Baltic or English Porters, but significantly fewer than you'll find in an Imperial Stout. They're often dark red to black in color, with hints of molasses, raisin, and licorice from the dark malts they're brewed with.
Enjoy!
Stouts and porters offer so many amazing choices to both brew yourself and enjoy. From the dry, low ABV Irish Stout to the huge Imperial Pastry Stout, these dark beers might all look a little similar once poured into a glass, but that only masks the incredible range of flavors you might find in your sip. 
Get in touch with us on Facebook and Instagram and share with us your favorite dark beer. And when you're ready to start brewing, try one of these hand-picked Beer Making Kits for brewing your next dark beer.
---
We make all-grain beer brewing kits that make it easy to make beer at home. Whether it's your first batch or your hundredth.
---