Recipe

:


Beer Brined Turkey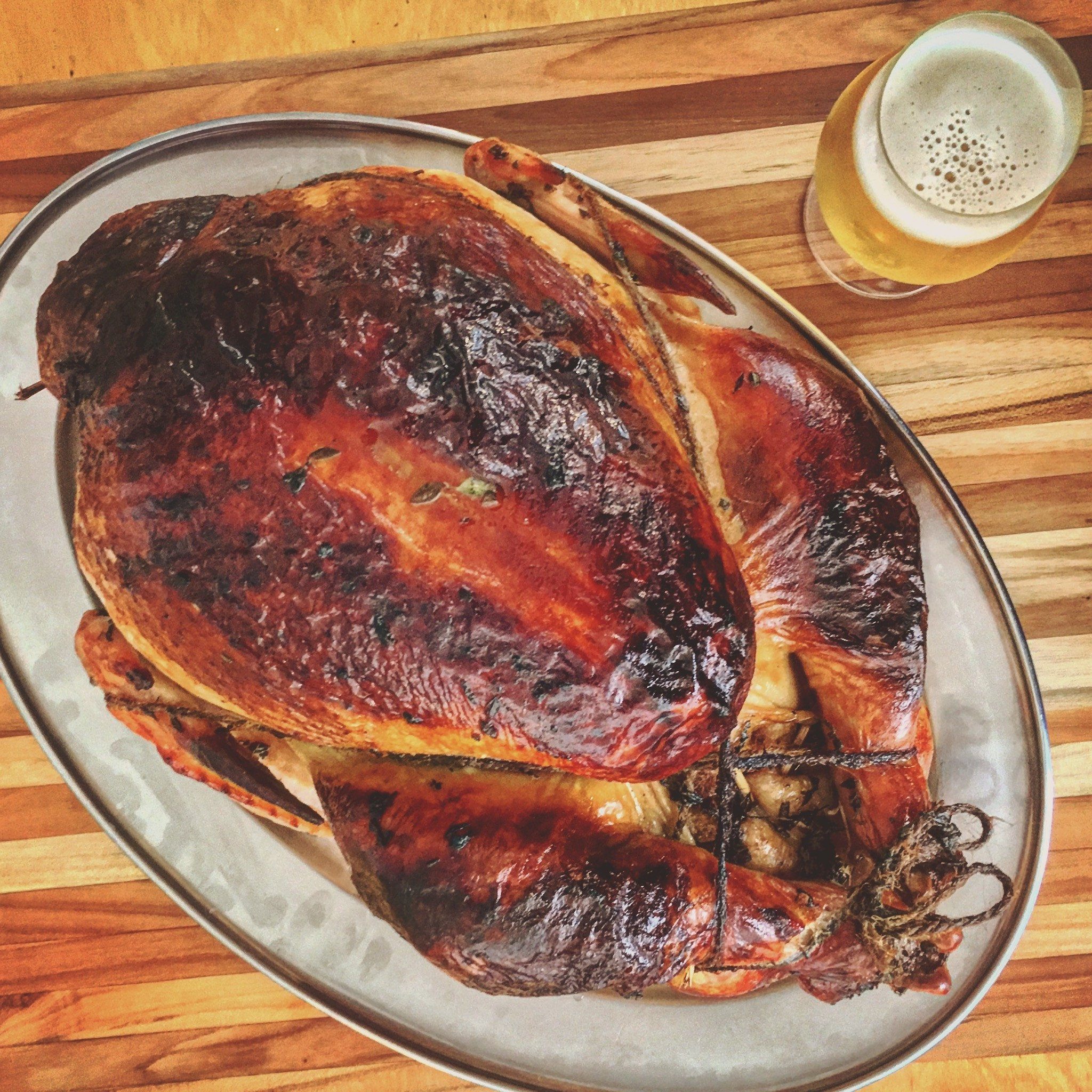 There's a tried and true ritual to cooking a full turkey, whether it's as the centerpiece for a hearty dinner party or a full-fledged holiday spread at cousin Marge's. The process of brining, basting and roasting feels almost ceremonial, and the way the scent fills up a room, or a whole house, is really something to remember. We think adding beer into every part of the process really makes it showstopping.
Our take on this classic is surrounded by delicious root vegetables and herbed with the likes of fresh thyme, peppercorns and bay leaves. The beer lends earthiness and rounded flavors to the bird while also keeping the meat juicy and tender. This turkey gobbles up an entire 6 pack of beer in the making (we recommend using our Bruxelles Blonde to really tie everything together).
What You Need For The Brine
3 cups coarse salt
5 cups sugar
2 large onions, coarsely chopped
2 carrots, coarsely chopped
2 celery stocks, coarsely chopped
4 bay leaves
4 sprigs of fresh thyme
4 dried chili peppers
2 tablespoons whole peppercorns
4 12-ounce beers
What You Need For The Turkey
1 whole turkey (18-20 pounds)
1 stick of butter, melted + ½ stick of butter, softened
2 12-ounce room temperature beers
cheesecloth
2 large onions, cut into 2" pieces
2 carrots, cut into 2" pieces
2 celery stocks, cut into 2" pieces
Stuffing (If you don't already have a go-to stuffing recipe, our Chestnut Brown Stuffing works perfectly here)
What You Do
Combine salt, sugar, chopped vegetables and spices in a large stockpot with 6 cups of water. Bring to a boil over medium-high heat and stir until salt and sugar have completely dissolved. Remove from heat and let cool completely.
Transfer half of your cooled brine to a lidded container large enough to fit your turkey. Place turkey, breast side down into the brine, add beers and remaining brine to cover. If you find your turkey floating up out of the brine weight with a plate. Cover and refrigerate for 24 hours.
Preheat oven to 425 degrees Fo and remove all oven racks but one. Place single rack at the lowest position.
In a saucepan, over medium heat, melt 1 stick of butter. Remove from heat, whisk in 2 beers and add cheesecloth in saucepan to soak.
Arrange large vegetables in the bottom of a roasting pan, add pan rack and place turkey on it, breast side up with wings folded under. Generously salt and pepper both the inside and outside of the turkey.
Fill turkey with stuffing (both the body and the neck cavities). Tie legs together and secure any loose flaps with toothpicks.
Apply ½ stick of softened butter to the turkey, rubbing all over. Season again with salt and pepper, and cover the top of the turkey with the beer and butter drenched cheesecloth (reserving the remaining liquid to baste with).
Roast turkey for 30 minutes then baste with beer and butter mixture. Lower oven temperature to 350 degrees Fo, basting and turning the turkey every 30 minutes. After 3 hours, remove the cheese cloth and continue to baste and turn the turkey every 30 minutes until turkey is fully cooked and thigh temperature reaches 165 degrees Fo. Let stand at room temperature for 1 hour before carving. Enjoy!
---
We make all-grain beer brewing kits that make it easy to make beer at home. Whether it's your first batch or your hundredth.
---